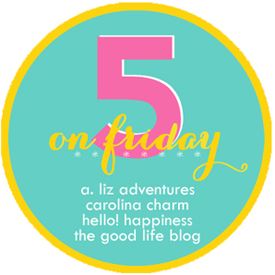 TGIF! 5 things I've been thinking about this week:
1.
Sweet Potato Soup.
I made this soup this week. I was a little nervous I wasn't going to like it but it taste great and fills me up. This time I made it will whipping cream, next time I'm going to try to make it with the fat from coconut milk.
2. Christmas tree. I can't wait to get my Christmas tree. I'm hoping to have one up by next weekend so I can have it open up and put the lights on so it can be decorated on Thanksgiving.
3. Cracker Jack'D. I found this at Walgreens, cost about $1.50-$2.00. If you like Chocolate and PB as much as I do you will like these.
4.
Boots!
Time to break out the boots and strut your stuff.
5. Black Friday. I can't wait to start shopping for Christmas. I have been saving and I am super excited. This will only be my second year for Black Friday shopping since I have been working retail for too long.
Link up with 5 on Friday at the Good Life Blog.